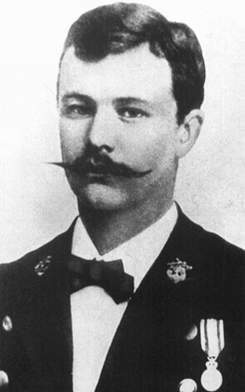 The Regiments-Kapellmeister (bandmaster of infantry regiment number 50, Franz Lehár had two sons. The younger one, Anton Lehár, inherited his military talents while his older son, born in the garrison at Komorn on the 30th of April 1870 and named Franz too, received his fathers musical talents and more! His parents, recognizing early his talent, sent him to the Konservatorium at Prague to learn the violin and on completion of his education he obtained a position as a violinist in the regimental band of his father at Komorn. In 1890 he himself reached the position of bandmaster at Losoncz but left the army and joined the navy. With the k.u.k. Kriegsmarine he was first Kapellmeister at Pola from 1894 to 1896, followed by service in the garrisons at Trieste, Budapest (1898) and finally Vienna from 1899 to 1902.
During his years of military service he composed numerous songs and operettas, becoming more and more successful. In the year when the famous "Walzerkönig" Johann Strauß was laid to his rest, Franz Lehár achieved his first major success at the music theatres in Vienna. Later the music historians fixed this year as the end of the "Golden era of Operetta" and the beginning of the so-called "Silver era of Operetta" - and Franz Lehár became the uncontested imperator of this period. Many of his songs and operettas - like "Der Graf von Luxemburg" (The Count of Luxembourg), "Zigeunerliebe" (Gipsy Love), "Schön ist die Welt", "Das Land des Lächelns" (The Land of Smiles), "Paganini", "Der Zarewitsch" (The Czarevitch) and most of all "Die lustige Witwe" (The merry widow) - are still unforgotten and performed in music theatres throughout the world to this day. Franz Lehár introduced the "dancing-song" in the operetta and was well known for incorporating Viennese, Slavic and Hungarian elements into his own music in a unique way. Beside his operettas he composed numerous waltzes, marches and - in his later years - movie-sound tracks!
In 1902, when his operettas "Wiener Frauen" and "Der Rastelbinder" achieved great success at Vienna's theatres, Franz Lehár decided to leave military service and devote the rest of his life to the music theatre. He always maintained close friendships with the famous interpreters of his music like Alexander Girardi, Richard Tauber and Johannes Heesters and his brother Anton! The highly decorated officer and the showman influenced and helped each other during their whole lifetime. When the famous composer died on the 24th of October 1948 at Bad Ischl (Upper Austria) his younger brother Anton became the administrator of his (musical) estate.
Back to Miscellaneous Biographies