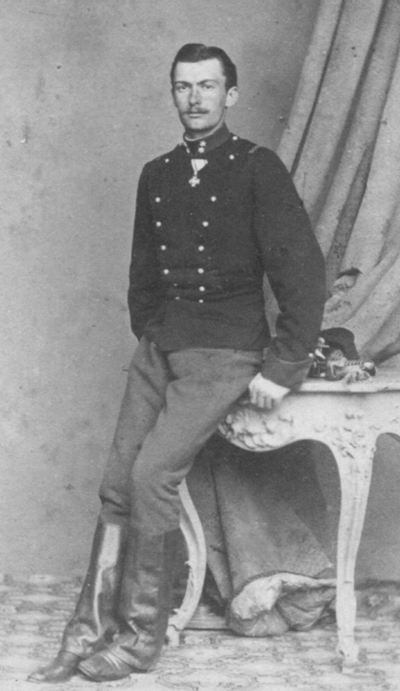 Ernst Graf Fünfkirchen was born on the 10th of September 1837 at the family estate of Fritzstein in Styria (other sources say Moravetz in Bohemia). The noble family of the counts Fünfkirchen, who had held the title of Graf since 1690, is divided into two separate lines, the primary line also called "zu Steinabrunn" because their full title is "Grafen von und zu Fünfkirchen, Freiherrn von Steinabrunn", and the secondary line "zu Chlumetz" which was the line of Ernst. His parents, Friedrich Dominik Graf Fünfkirchen and Sidonia born Reichsgräfin Chotek von Chotkowa und Wognin, had five children, Isabella (*1833), Ferdinand (*1834), Therese (*1835), Ernst (*1837) and Franz (*1839). Ferdinand and Ernst entered a military career with the ulans.
Ernst Graf Fünfkirchen entered military service as an Unterleutnant 2nd class in November 1856 in ulan regiment "Fürst Lichtenstein" number 9 where his older brother Ferdinand held the rank of Oberleutnant. This regiment was raised in 1640 as a dragoon regiment, transformed into a chevauxlegers regiment in 1777 than transformed into ulan regiment number 9 in May 1851 and finally it again became a dragoon regiment (number 10) in 1873. Soon the excellent rider was promoted to Unterleutnant 1st class in November 1857 and Oberleutnant in April 1859. For his dashing performance as an Aide de Camp during the battle of Solferino he was honored with the Military Merit Cross with war decoration - the only decoration in his regiment because the ulan regiment number 9 was not engaged during the war of 1859! In March 1861 he became a member of the knightly Johanniter Order of Malta. Normally Ernst Graf Fünfkirchen would have been promoted to Rittmeister 2nd class in the autumn of 1864, but regimental duty drilling recruits in the Galician province were too boring a prospect for a dashing young cavalry officer and so he volunteered for Mexico before this promotion took place.
Ernst Graf Fünfkirchen was assigned as a Rittmeister 2nd class to the ulan unit of the Volunteer Corps as a squadron commander, shortly followed by his promotion to Rittmeister 1st class with seniority of the 28th of May 1864. During the following years he was engaged as an independent commander patrolling with his ulans all over the Sierra fighting against irregular, mainly criminally motivated gangs and had to repel several ambushes of partisan forces. During the siege of Jalapa he tried to liberate the troops under Freiherr von Hammerstein but failed due to the superior enemy forces. He was honored with the award of the bronze Military Merit Medal and the knight's cross of the Order of our beloved Madonna of Guadalupe but when the Volunteer Corps were disbanded in December 1866 he realized, as so many other Europeans, that his dream of a career in a new Mexican Empire was gone and returned disappointed to Austria, suffering from tropical fever and broken dreams.
On the 1st of April 1867 he rejoined ulan regiment number 9 as an Oberleutnant with the seniority of the 24th of April 1859. The law guaranteed that he could rejoin his old regiment but his shaken health affected him to much for normal regimental duty. Of course this was not that much of aproblem for a man of his family background! He applied for the honor of Kämmerer, which was rapidly approved in 1868 and was attached to the court of Erzherzog Carl Ferdinand. As Adjutant and Dienstkämmerer of General der Kavallerie Erzherzog Carl Ferdinand Ernst Graf Fünfkirchen received his promotion to Rittmeister 2nd class on the 1st of November 1869. On the 26th of May 1872 Ernst Graf Fünfkirchen died, four months before his 35th birthday, at the Weilburg at Baden near Vienna.
Back to Mexican Adventure Biographies